1.-Rockville RSG15.28 Dual 15" 3000 Watt 3-Way 8-Ohm Passive DJ / PA Speaker-$224.99.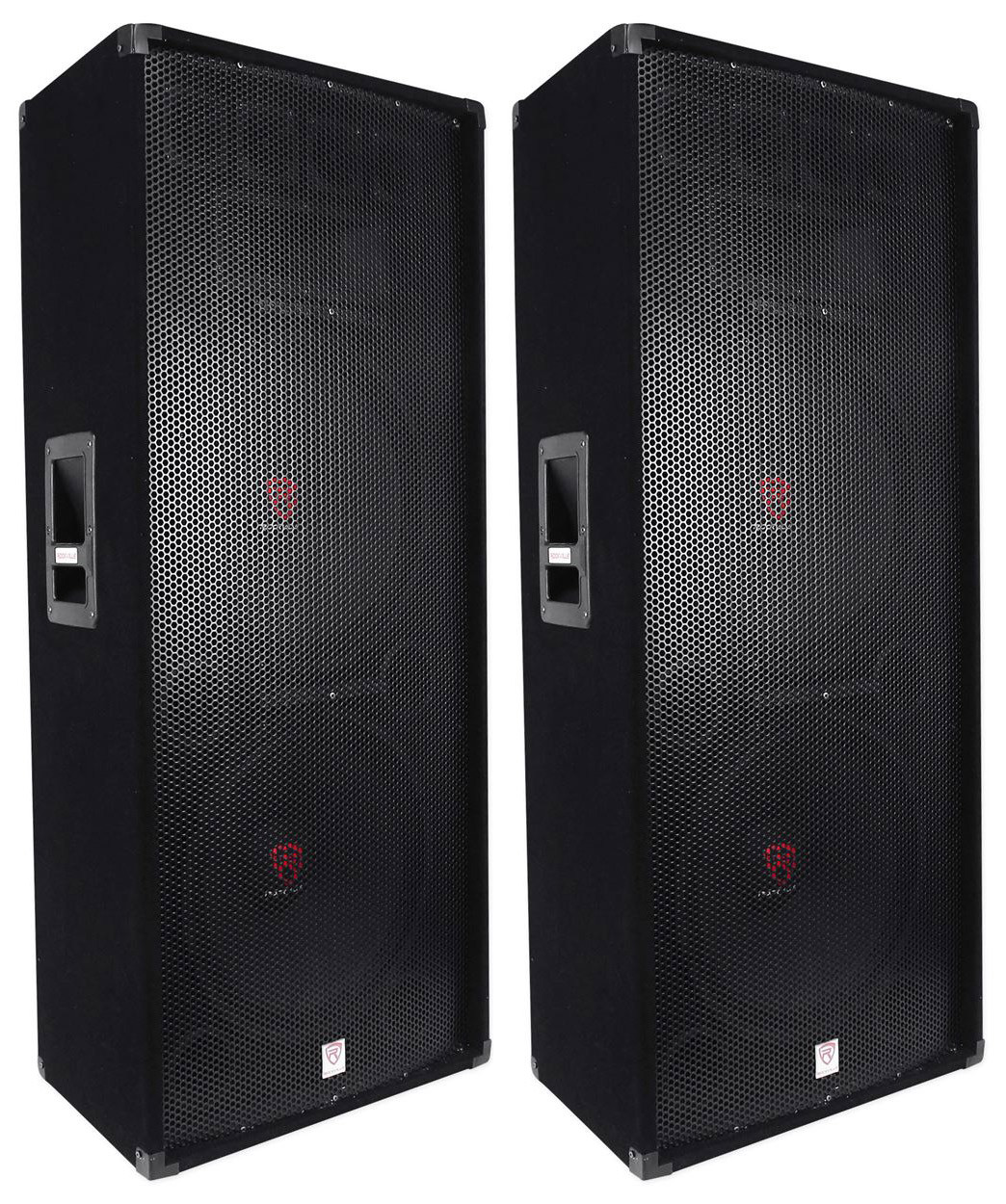 We are proud to introduce to you the Rockville RSG series of speakers. These are affordable speakers with high-end performance; specially built for DJ's as well as professional audio applications. After conducting strategic market research, Rockville is proud to bring you this new line of speakers that were engineered to combine incredible power handling, superior sound and unbelievable build quality. The goal was to create a line of passive DJ speakers that were double as good as the competition but cost half as much.

The Rockville RSG15.28 speaker system features two high quality 15" low frequency woofers with four electronic, high-efficiency piezo bullet tweeters and one high efficiency piezo compression horn tweeter that provide a true full-range of sound. This speaker produces an incredible amount of power. 3000 Watts peak, 2000 Watts Program Power, and 1500 Watts RMS Power. With 80 Oz magnets, you can be sure these speakers will produce the power you expect out of them.

Constructed using thicker than standard, high-quality, high-density materials our cabinets are strong and rigid yet light weight enough to make travel and set-up a breeze. Built-in ergonomic, recessed handles give these speakers additional carrying ease, for all you DJ's who travel from party to party. The sturdy custom-molded steel grill combined with steel corner protectors, pre-mounted rubber isolating feet, and durable aviation-grade black carpet make these speaker cabinets tough enough to withstand every day abuse.

Engineered from the ground up; the tapered trapezoidal shape produces wide, clear sound dispersion that will reproduce your program source materials loudly with accuracy and musical transparency.

Multiple inputs, typically found on high-end speakers are standard equipment on the Rockville RSG15.28. Two input connectors, ¼" IN/OUT and speakON connection make the Rockville RSG-15.28 able to integrate in to any existing amplification system. Additional installation flexibility is available via the reinforced.

So if you are looking for a top-of-the-line quality DJ speaker that is rugged, can handle lots of power, and sounds incredible then the Rockville RSG15.28 has got you covered. Built-to-last.


Features:
Rockville RSG-15.28 Carpeted Passive Loudspeaker
(2) Dual 15" Pro Audio Woofer
(4) Piezo 3" Bullet Tweeters
(1) High Efficiency Piezo Compression Horn
RMS Power: 1500 Watts
Program Power: 2000 Watts
Peak Power: 3000 Watts
2.5" High Temperature Aluminum Voice Coil
8-Ohm Impedance
Sensitivity: 105dB @ 1w/1m
Frequency Response: 35Hz - 22 kHz
SpeakON In/Out connections
¼" In/Out connections
Dimensions: (20.5+13.2)x13.8x46in
Weight: 61.7Lbs
Rubber Isolating Feet
Construction: Top quality MDF - Stapled, Bonded & Braced
 
2.
 
Rockville SBG1184 18" 1000 Watt Passive 4-Ohm Pro DJ Subwoofer, MDF/Pole Mount-$195.99.
At Rockville we understand you have a choice of where to buy your pro audio gear. We strive to compete in quality with higher end brands in the market. We also market directly to end users cutting out all middlemen which is why we are able to offer high end products at lower prices than the cheap stuff out there.
Something we like to do is to explain the differences between this and off brand pro audio subwoofers so you can understand how great the quality of this subwoofer is.
The cheaper ones use particle board. We spend more money manufacturing these with MDF which will hold up for a much longer time than particle board. We are using a real true pro audio subwoofer in the cabinet which has very large 3" voice coils and a 90 oz magnet. The off brand names use a magnet half the size of this and a smaller size voice coil. The advantage is that our unit can handle more power and will last longer. These subs can take a real beating! The other difference is the build quality. We go the extra mile to use the right amount of glue, solder, etc. Lots of off brand name subs blow due to poor glue or poor solder. Lastly, our company goes through vigorous testing for sound quality and tuning before we start our mass production. Lastly, we have one of our very own technicians go to the factory and inspect a minimum of 15% of the production models to ensure the quality is as good as the original samples we engineered.
This product has a 1 year warranty (It is highly unlikely you will ever have to use it though).

Features:

Rockville SBG1184 18" 1000 Watt Passive Pro DJ Subwoofer w/ MDF Cabinet and Pole Mount

18" Pro audio woofer


500 Watts RMS

750 Watts Program Power Handling

1000 Watts Peak Power Handling

3" High temperature aluminum voice coil

90 oz woofer magnet


Dual Ported Enclosure for Improved Bass Response

Construction: High-Density, High-Quality Non Resonant MDF, Stapled, Bonded & Braced

Ergonomic Recessed Handles

Molded Steel Grill

Aviation Grade Black Carpet


Pole MountÂÂÂÂÂÂ 
ÂÂ 
 
3.-Rockville RCTT1425 25' 14 AWG 1/4" TS to 1/4" TS Speaker Cable 100% Copper-$22.99,ÂÂÂ 

Rockville RCTT1610 10' 16 AWG 1/4" TS to 1/4" TS Speaker Cable 100% Copper-$13.99.
 
.EMAIL, TEXT OR CALL ME FOR AN APPOINTMENT
Wild Bill
CALL OR TEXT WILD BILL FOR AN APPOINTMENT.432-556-3015. e-mail: This e-mail address is being protected from spambots. You need JavaScript enabled to view it