Leedy1960 3 PIECE Black Diamond Pearl Vintage Drum Kit SHELL PACK. Sold to me by the original owner. The entire kit was in unrestored original condition, so I immediately began replacing heads and restoring to playing condition. All of the seams are tight and there are no extra holes in any of the drums. Anybody that's really into vintage drums would know that this is truly a collector's kit. The kit consists of:
-14" x 22" Bass Drum. Virgin Bass.Ten center lugs original Leedy calfskin head on kick side needed replacing has tear and original reso Head needed replacing. Both heads were replaced with Evans Vintage '56 Calftones.ÂÂ  Has the original bolt on rim mount legs original, no legs penetrating the shell, and cymbal holder arm.
- 8''x 12'' Small Tom, six lugs on each side polished up like brand new.,original Leedy calfskin heads were torn and replaced with Evans Vintage '56 Calftone heads.Has 1960 date stamped inside the drum. Has mount for attaching to bass drum rim mount.
-14''X 14'' Floor Tom, eight lugs on each side that polished up like brand new. The old Ludwig Remo Weather Master heads were replaced with new Evans Vintage '56 Calftone heads on top and bottom. Push button leg brackets function like new.
Everything is in as is good condition and hasÂÂ  been professionally refurbished. These drums are 58 years old1! It is restored to playing condition. It sounds so good, absolutely beautiful to the ear. Definetly a keeper1 !CALL OR TEXT WILD BILL FOR AN APPOINTMENT TO COME GET THIS DRUMSET SHELL PACK. JUST CALL OR TEXT AND MAKE YOURSELF AN APPOINTMENT TO GO SEE WILD BILL.ÂÂÂÂÂ CALL OR TEXT WILD BILL FOR AN APPOINTMENT. THANKS! This e-mail address is being protected from spambots. You need JavaScript enabled to view it



Leedy vintage 1960!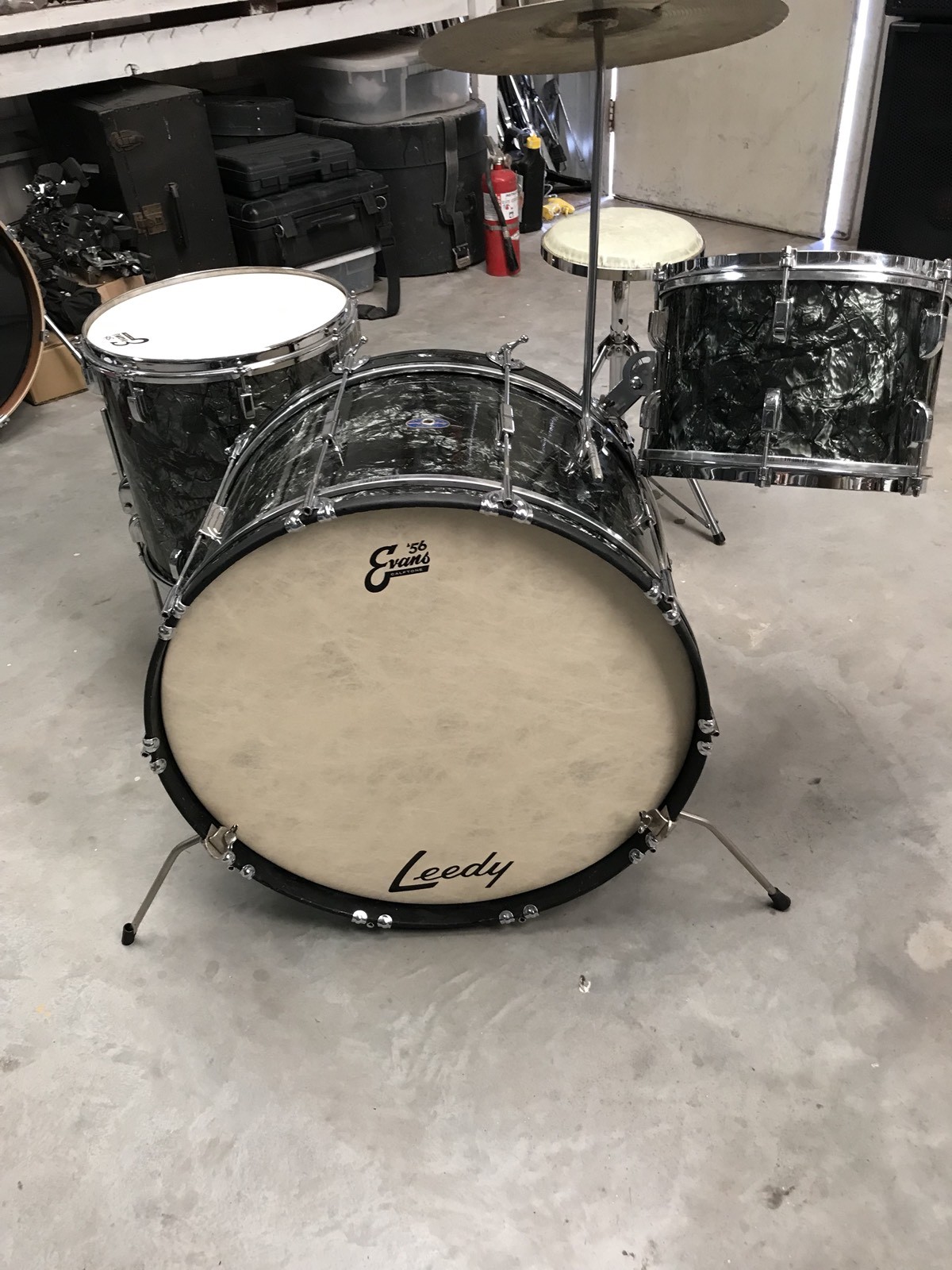 1960 Leedy drums include 22" virgin bass drum, 12" hi tom, 14" floor tom. New Evans Vintage '56 calftone heads on batter and resonant. These drums are 3 ply mahagony and sound fantastic. CYMBALS AND HARDWARE NOT INCLUDED.. Brought to you by Wild Bills Drum Shop 432-556-3015.
Â